Spring
We have had a lovely half term learning all about food and where it comes from. We began the topic by reading "The World Came to My Place Today" and we spread out a world map and placed different foods such as tea, chocolate, bananas and rice across the map. We wrote our own sentences about the different foods and where they come from.
We then moved on to following instructions and we had a floury afternoon making soda bread! Miss Poole made the bread mix and then the children all got to knead the bread. We talked about how the ingredients mixed together change through the baking process. All the children tried a soda bread roll and there were mixed reviews!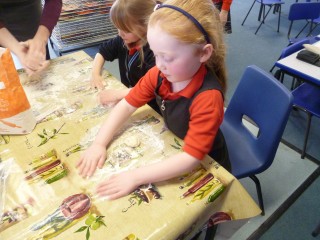 The children enjoyed taste testing different fruits such as kiwi fruit and blueberry. They thought of appropriate, adventurous adjectives to describe how the fruit looks, tastes, feels, and smells. We also really loved coming up with our dream dessert recipes. There was a lot of ice cream and chocolate! The children did well to use different imperative verbs for example swirl, drizzle and mix.
We have done lots of dividing and multiplying this half term and food was a very handy topic! We also learned how to recognise and write fractions of halves, quarters and thirds.
We made pizzas out of collage materials and these look great on display. We finished our term by enjoying a fantastic story called "Lady Pancake and Sir French Toast" by Josh Funk and we based our Golden Writing on this story of food coming to life inside a fridge, with some exciting results!