Home Learning for any children at home this week who are able to work.
On this page you will find activities that you can complete at home this week.  Please share your completed work with me.
*Remember that you can contact me if you have any questions at mrscameron@lmp.org.uk  
Home Learning  – week beginning 23-11-20
Big Writing – Monday
Imagine that you have been asked to invent a new game that can be played in a PE lesson.
The game must be suitable for up to six players.
It must use at least four different pieces of equipment available from the PE shed.
The game needs to be suitable for playing both inside and outside.
Task: Write a clear set of instructions for the game. Remember to include all of the features that you know instructions must have.  Features of instructional texts
English – 1 task each day Tuesday to Friday
This half term we have been learning about instructions. This week you are have a variety of tasks connected to this.
Tasks:
Spellings – daily
Here are this week's spellings. Practise them using the activity sheets. If you are at home on Friday, ask someone to test you using the test sheets.
Year 3 spellings Year 4 spelling
Reading – aim to read for at least 20 minutes each day and record in your planner. You can also access Accelerated Reader at home to complete quizzes. https://ukhosted49.renlearn.co.uk/2245039/default.aspx 
Maths – 1 task each day Monday to Friday
This week we will be looking at addition and subtraction. You will be able to use the White Rose Home Learning resources by going to https://whiterosemaths.com/homelearning/ From this page you can choose your year group. On the right-hand side there is a blue box where you can select the week. From here you can select the video lessons listed below and then you can complete the attached activity sheet.
Year 3 watch the videos from week 7. Here are some activities sheets connected to each of the videos to complete:
Y3 Task 1 Add-and-subtract-2-digit-and-3-digit-numbers-not-crossing-10-or-100
Y3 Task 2 Add-2-digit-and-3-digit-numbers-crossing-10-or-100
Y3 Task 3 Subtract-2-digit-numbers-from-3-digit-numbers-crossing-10-or-100
Y3 Task 4 Add-two-3-digit-numbers-not-crossing-10-or-100
Y3 Task 5 Add-two-3-digit-numbers-crossing-10-or-100
Year 4, last week you were learning the formal column method for subtraction. This week you will need to complete these activities to practise the method using these activities:
YOU CAN ALSO ALL LOG IN TO 'TT ROCKSTARS' TO PRACTISE YOUR TIMES TABLES.
Topic – Tuesday
Create your own Stone Age cave complete with drawings inside an old box. Use this photo for inspiration.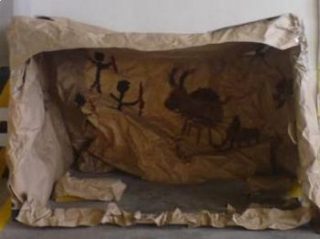 Science – Wednesday
We have been learning about healthy eating using the Eatwell Guide. Sandwiches can be a healthy option. Complete these sandwich related activities:
Research different types of sandwiches.  Sandwich research
Interview a family member about the sandwiches that they like.  Interview sheet
Design, make and evaluate a sandwich for the person that you interviewed.  Sandwich planning
French – Thursday
Mrs Hamilton has emailed you your login details to access the games on Language Angels. Have a go at some of the fun activities to practise the language we have learnt in school.
PE 
Although we do PE on a Thursday, aim to get outside in the garden for some 'fresh air' exercise EVERY day.
You can also do Joe Wicks work outs by following this link https://www.youtube.com/playlist?list=PLyCLoPd4VxBuxu3sLztrvWFehzv-LnR2c or try one of the Cosmic Yoga sessions https://cosmickids.com/watch/
Computing
This week we are thinking about the difference between our real friends and online friends- and how to stay safe online.
Watch this online safety video:
Can you read and complete or talk about the activity about 'Digital Privacy'- thinking about what information it is safe to share online? Has it made you think about the information you might post about yourself online in the future?